Text 3B. Industry and mineral resources of the Urals.
The immense wealth of this region can hardly be over-estimated. The Ural Mountains are a magnificent museum of geology created by Nature: almost all the elements from Mendeleev's classification table can be found there. The area is extremely rich in mineral resources including major deposits of copper, nickel, chrome, gold and platinum. Non-metallic mineral resources include oil, natural gas, coal, ores, salt, mica, sulphur, marble, asbestos, fire-clay. Diamonds, amethyst, topaz, emerald, opal, malachite, agate, rock crystal, jasper, ruby, perlite and cornelian are among its gems and precious stones.
Aventurine is a type of quartz. It can be yellow, green, blue or red. Aventurines from the Urals are yellow-brown. Aventurine is considered to be a talisman of luck and good mood. It gives optimism and self-esteem. Aventurine symbolizes creative abilities and love.
Agate is a type of chalcedony and has strati form colouring. People with creative abilities and fantasy can observe the whole world in the depths of agates. Agate is one of the cheapest gems. It is a stone of fertility, courage, longevity. It helps to get sport progress and to control anger.
Many years ago it was considered a Russian stone. Later a lot of deposits were discovered in many countries. Alexandrite has a unique opportunity to change its colour, depending on light. A yellow tint appears when its owner runs the danger of illness. This stone is a symbol of amorousness and jealousy.
Blue aquamarine and green emerald are types of beryl. There is a rich deposit of beryl in the Urals. Beryl is considered to be the symbol of temper. It helps to get good mood and to struggle with laziness. It is a stone of scientists and thinkers.
Jasper is the most widespread gem. A Greek word 'jaspis' means 'colourful'. Jasper has unique magic properties. It helps to communicate with people, prevents from bad luck, helps to become a good speaker and strengthen the will.
A Greek word 'rhodon' means 'a rose', so this stone is pink, red, and scarlet. Sometimes people call this stone – 'a stone of the dawn'. Rhodonite reveals hidden talents and skills, gives strength and optimism.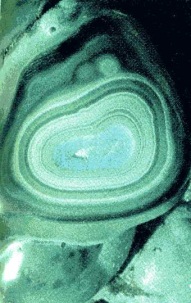 Malachite has its peculiar green colour, because it contains cooper. It is very easy to process this stone that is why a Greek word 'malakos' means 'soft'. 1635 is a year when a vast Ural deposit was discovered. There are many legends about malachite. They say that it can make you invisible, helps to understand the language of animals. It is a symbol of dreams fulfillment.
Rock crystal is a quartz. Rock crystal is so pure that reminds a magic icicle. A Greek word 'krystallos' means 'ice'. In Japan people believed that rock crystal is a frozen dragon's breath. As you know, a crystal ball is an attribute of fortunetellers. It helps to concentrate attention, to improve mental process.
For the Urals region is very rich in mineral resources, numerous of industrial enterprises are located on its territory. For instance, in Perm and Nizhny Tagil there are metallurgical plants.
Ore, machinery, metal… The whole history of the Urals, its past and future stand behind those three words which describe the main features of Sverdlovsk Region. Sverdlovsk Region occupies a prominent place on the industrial map of the country. The economic potential of the Middle Urals is very high: there are 740 industrial enterprises and 350 construction organisations here.
The machine building industry of the Urals in general features a strongly pronounced trend towards heavy engineering.
Iron ore is looked upon as the principal treasure of this 'museum', leaving behind platinum and gold. Nizhny Tagil is called by right 'the iron capital' of the Middle Urals. The rails made at the iron-and-steel works in
Nizhny Tagil carry heavy traffic on the busiest sections of the Baikal – Amur line. In Nizhny Tagil an oxygen-converter plant started up the first in our country and it is the largest in Europe. The city is the home of another industrial giant: the 'Uralvagonzavod'. Today it is the largest country's supplier of all metal railroad cars.
Syssert pump-building production has a country-wide importance. This production is used by Muscovites, also pumps supply the miner's settlements from the Irtysh – Karaganda channel with potable water and irrigate the vast fields in Uzbekistan.
Such towns as Kirovgrad, Krasnouralsk, Verkhnaya Pyshma are famous as copper smelters. They serve as the basis for development of highly efficient chemical production capacities.
Besides these fields of economy specialisation the Urals has such industries as: mining, machine-building, wood-working, textile and ceramic industries, chemical industry, oil and natural gas output, constructive materials production, growing of wheat. The rivers of the Urals rotate the turbines of large hydropower stations. The land of the Urals owns considerable forest resources: its share in the total volume of State timber purchasing amounts to 15 percent. Timber is the principal wealth of the towns standing on the navigable Tura and Tavda Rivers in the north-east of the region. The neighbouring town of Turinsk is known for its matches made at the local matchmaking factory, and wooden toys. The reputation of the Urals goods is rated high. They are exported to 80 countries in all parts of the world. The heirs to the Urals craftsmen continue today the line of their fathers.
---
Дата добавления: 2015-09-11; просмотров: 5 | Нарушение авторских прав

CONVERSATIONAL TOPICS | Text 1A. Russia | Text 2A. Capital of our country | Text 3D. Cities, sights and people | Text 3E. Education and new technological projects | Read text 3F and translate it. | Text 4A. Krasnoturyinsk | Text 4B. Severouralsk | Use the questions below text 4B as a plan and tell about Severouralsk. |

---
lektsii.net - Лекции.Нет - 2014-2020 год. (0.007 сек.) Все материалы представленные на сайте исключительно с целью ознакомления читателями и не преследуют коммерческих целей или нарушение авторских прав